Advertising kids for adoption 2007 Online
• Reach an audience of over 3,000 prospective adopters
• Monthly publication
• No placement fees
• Competitive rates for featuring; discounts for agencies and repeat features
• Immediate changes to profiles Online
• Secure Online profiles can be viewed at any time
• Agency contact details included so prospective adopters can contact you directly
• Online profiles uploaded twice a month
Feature Rates 2007 – 2008
From 1 April 2007 – 31 March 2008
Children Who Wait magazine
Feature size Feature detail Agency member rate Non-member rate
Quarter page One child with one photo and a £235 £360
profile of 130 words max.
Third page For one child or sibling group; £325 £460
one photo; profile of 150 words max.
Half page For one child or sibling group; one or £425 £625
two photos; profile of 180 words max
Full page For one child or large sibling group; £775 £1050
one or more photos; profile of 250 words max
Children Who Wait magazine and Online
If you feature a child in the magazine, you can also feature them Online for a discounted rate.
For members, simply add £75 to the magazine rate (£100 for non-members). These rates are for
the feature to remain online for one month.
Quarter page and Online £310 £460
Third page and Online £400 £560
Half page and Online £500 £725
Full page and Online £850 £1150
CHILDREN WHO WAIT
Whilst there is a need to give as truthful a picture as possible, you should also be mindful of the child having access to their profile in the future, and consider any impact that the written words may have on them.
Words can be interpreted in different ways, and for this reason Adoption UK reserves the right to edit the profiles to promote the child's personality and situation in a positive light, without clouding issues surrounding the child's behaviour and experiences.
Advertising kids for adoption 2007 Online.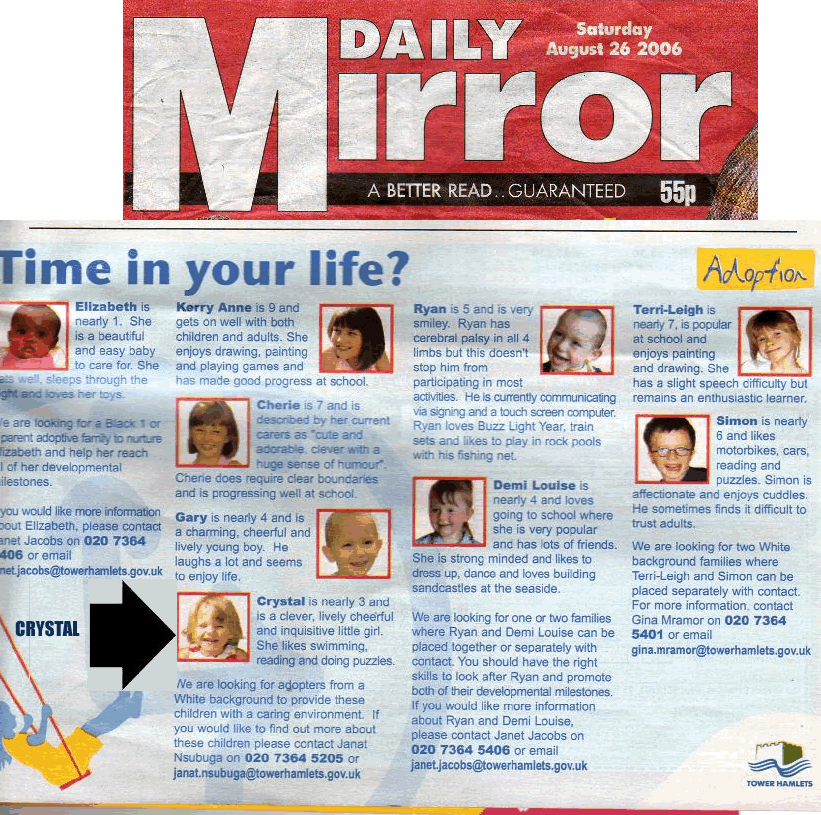 Disclaimer: Content on this site is placed Without – Prejudice.
Search this site.


Click Here to email Us if you think we can help you in any way.

No child can be identified by any posts on this website. Every child should be able to move on in future without reminder of past intervention by any authority. Many victims of the U.K. System are the children.
We are indeed aware of
Article 170: Privacy for children involved in certain proceedings.
but also
Section 62: Publication of material relating to legal proceedings (251.252.)
Which means that nothing can be published that may identify any CHILD during court process yet; Council's can publish photographs and detailed profiles of children online in advertising them for adoption.
To save this information on your computer so you can read another time – right click on mouse anywhere on this page – click on Select All. Right click mouse on highlighted text and click on Copy. All information on page is now in your clipboard, open a new Document or Notebook page – Right click mouse on empty page and click on Paste. Simply delete any text above and below the text you now have and save this document with a title. Now you can read off-line at leisure.

This website is built for a parent who went through the system and wishes this information was there for them when it was needed.

This right is protected by law, the Universal Declaration of Human Rights (article 19), and the International Covenant on Civil and Political Rights (article 19).

Download the PDF READER you will need it to view all PDF files.
Simply click the button below and follow the information, this will download and install the PDF reader onto your computer. This will allow you to read all these large PDF documents on any website. If you are not using your own computer and want to view any of these files simply email us and we will give you a link where you may read in web format.

Other web-sites built as hobby.
Both Community Sites below have very helpful Message Boards.
Entertainment Links. Add us to your list before you go.